POLKA BIKES LADY SUNBATHER
The Lady Sunbather was created in tribute to sun, relax and lieing in on sandy beaches of the Baltic coast.
The Lady Sunbather was created in tribute to sun, relax and lieing in on sandy beaches of the Baltic coast.
She brings sunshine even to the most cloudy cities, opens up people's minds and makes them feel like having endless vacation.
The Lady Sunbather feels best when ridden by a relaxed rider in a summer outfit, who wants to surprise his or her friends with her hidden fixed-wheel tooth​!
Who said that only the male bikes can be cool? Transmissions, shock absorbers, levers, cables, sprockets – the usual bicycle begins to resemble a bomber. There would be nothing wrong with, apart from the fact that we do not need this whole stuff. Let's use mountain bikes in hard terrain and American cruisers while touring to the beach with sun umbrella under our arm.
For a smooth ride around the city blocks we need something light, fast and… beautiful.

24 months warranty for components, lifetime warranty for frame.
MORE INFORMACTION: 
SPECIFICATION: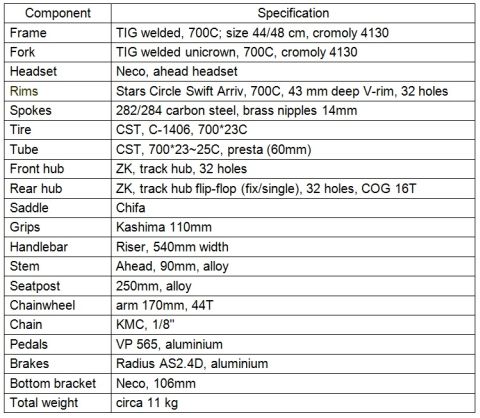 Our bikes all come with a flip-flop hub, which means they have a freewheel cog on one side of the rear wheel and a fixed cog on the opposite side. This means you get to choose whether you want to run free or fixed, and you also have the freedom to switch back and forth between fixed and freewheel anytime.
Let's start with freewheel. Freewheel is what most riders are familiar with. If you pedal forward, you will move the bike forward. If you stop pedaling, the pedals will simply stop and you will coast, and if you pedal backwards…well, nothing much is going to happen.
Fixed gear, on the other hand, is slightly different. Fixed gear means that the motion of the pedals is directly connected to the motion of the rear wheel. If you pedal forward, the bike will move forward. If you stop actively pedaling, but the rear wheel is still turning, the pedals will continue to turn. This means there is no coasting, if that back wheel is spinning, so are the pedals. And if you apply reverse pressure to the pedals, you can slow the rear wheel, or move the bike backwards if starting from a stop.